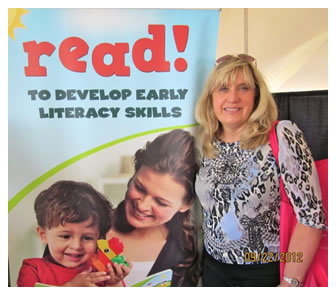 Sue at the National Book Festival, Washington D.C.
Sue was a consultant for the Association for Library Service to Children (ALA) in their collaboration
with Lego Duplo's Read! Build! Play! Project.
Kid Lit Plus Consulting
Sue McCleaf Nespeca heads Kid Lit Plus Consulting, devoted to the promotion of children's literature, with a specialty in books for children from birth through grade three, and also with an emphasis on the importance of early literacy. This site will cover books for children from birth up through eighth grade, and will be of interest to librarians, teachers, early childhood educators, parents, and those who work with children or who are involved in the book publishing world.
Living in central Pennsylvania, Sue has presented over 500 workshops throughout the United States, since 1998, on topics including children's literature, early literacy, family literacy and library programming. Presentations are most often for librarians, early childhood educators, teachers, and parents — always to rave reviews! Words used most frequently to describe Sue include enthusiastic, full of energy, and dynamic.
On this website you will find Recommended Children's Literature, updated three times per year. There are video highlights of Sue discussing her favorite books and lists of ALL her recommended books. And we keep track of various awards and best book lists presented for outstanding titles in Children's Literature.